Breaking Legs (2017)
It's 'Footloose' meets 'Mean Girls' as high school freshman Bloom moves to a town where there's no place to dance - except the school dance team! But when the boyfriend of the team's lead girl falls for her, she'll have to fight to win her place amongst these venomous girls. Breaking Legs is sure one to kick your boots off and pull up your heels, as these kids dance the field away to compete for the homecoming crown at R. Murray High School. Will it be newbie Bloom, or her arch nemesis and Dance Team leader, Harmony? Watch as the two square off in this fun but odd match to the finish. Someone is doomed to 'Break a Leg' on the dance floor, or rather, the football field!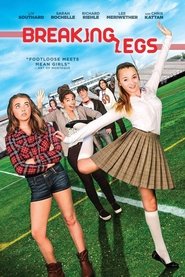 Popular
Popular with similar viewers
See More
After an earthquake destroys Xiang Qin's house, she and her father move in with the family of her father's college buddy. To her surprise, her new kind and amicable aunt and uncle are the parents of her cold and distant schoolmate, Jiang Zhi Shu, a genius with an IQ of 200 whom not too long ago rejected her when she confessed her feelings for him. Will the close proximity give her a second chance to win Zhi Shu's heart? Or will her love for him end under his cold words?
Tree Gelbman learns that dying over and over again was surprisingly easier than the dangers that lie ahead.
A drug squad attempts to take down a criminal organization and they must go undercover to do so, so they begin working at a chicken restaurant, that becomes famous for its delicious chicken. Due to the unexpected popularity, the detectives find themselves in a situation they never expected.
A band of kids embark on an epic quest to thwart a medieval menace.
Struggling to make ends meet, former special ops soldiers reunite for a high-stakes heist: stealing $75 million from a South American drug lord.